FOR INVESTOR
Remaining in constant movement, we implement new technologies and advanced developments professionally combining them with our own work experience, as always satisfied investor is our priority.
Sure investment and permanent income finally became possible. Considering relatively recent introduction of self-service car washes at the territory of Ukraine, as well as onrush of this trend, timely investment can become a smart move of successful investor.
Self-service car wash does not require for time heavy spending and attraction of wage labour, as technological equipment works reliably at any time of year 24 hours a day. The significant advantages are business cash orientation and total absence of debit debts.
Market novelty, innovative solutions, quality and reliable equipment and possible outfit variation allow to organize business flexibly according to certain needs of an investor.
INVESTMENT PROCESS STEP BY STEP
CONSULTATION ON SAMWASH
SAMWASH consultants will provide you with all information from allotment selection and designing to marketing. They will assist you on selection of optimum equipment, which will be manufactured by custom. You can get all information by e-mail, by phone or in person.
The main criteria of prospecting site: location at the places with high automotive traffic, sufficient area for site for construction, possible connection to gas, water supply, electrical network and sewage facilities. Single washing platform occupies approximately 25 sq.m. Additionally, unhindered exit and entry roads to the car wash, places for future suction cleaners, parking and other associated products and services should be provided.
ALLOTMENT SELECTION
DESIGN DOCUMENTATION DEVELOPMENT
SAMWASH provides a full range of services for designing and coordinating all necessary documents with the relevant authorities.
Overall range of preparation and general construction works on your site will be carried out by qualified and responsible contractors, which will guarantee the quality of executed works. SAMWASH representative will coordinate works within the whole execution period.
GENERAL CONSTRUCTION WORKS
EQUIPMENT MOUNTING AND COMMISIONING
Overall range of preparation and general construction works on your site will be carried out by qualified and responsible contractors, which will guarantee the quality of executed works. SAMWASH representative will coordinate works within the whole execution period.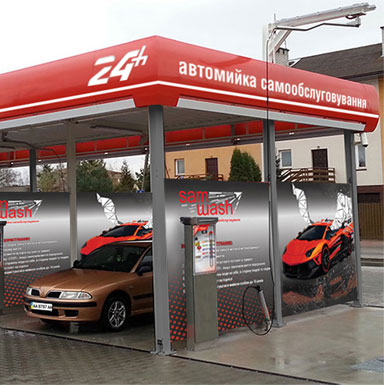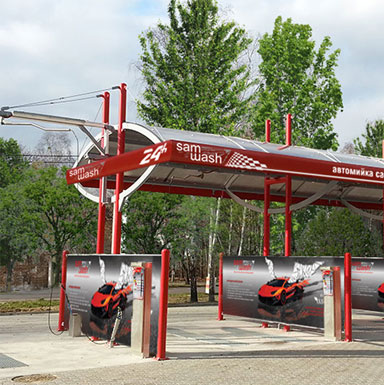 BRIDGE
Car wash as a piece of art? Why not? Bridge concept will make your car wash the meeting point of people, who appreciate their own style in everything.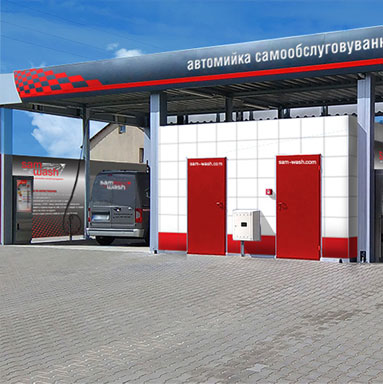 SIGN
You are not in favour of eccentric solutions, but do not want to get lost in city bustle? Sign concept will add special charm to your car wash.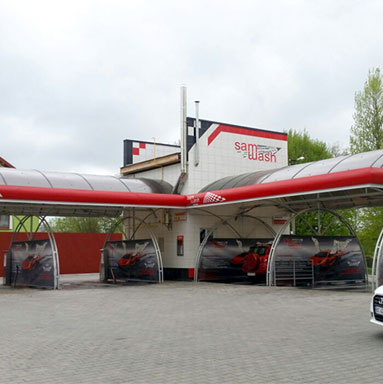 PIXEL
SAMWASH presents freedom of experiments. Pixel company concept uses non-standard materials and visual solutions, which will touch feelings of your customers.

stdx
High Accuracy Detergent Dosing System
Irrespective of the water pressure in the system and the number of operating bays, the detergents are dispersed uniformly at all bays. The flow is controlled remotely via the Internet

spwn
Water Storage and Treatment System
The system consists of an inlet water filter, inlet pressure equalization pumps, a duplex softener of the reverse osmosis system and storage tanks for demineralized water

esua
Electronic Car Wash Control System
The control system provides four access levels and controls over two hundred car wash parameters. The operation of all parameters can be controlled remotely

vidd
Remote Internet Access
This system allows checking the amount of funds received, monitoring and changing the washing parameters, receiving information on car wash operation

vacm
Vacuuming Token and Coin Collection System
The system automatically transports the tokens to the technological container and stores them in a special safe, which minimizes third parties access to the temporary storage system

safr
Anti-Frost System
It ensures a car wash operation at subzero temperatures and operates automatically. This system provides protection of a car wash in the event of emergency power cut-off

inpp
Smart Floor Heating System
The system provides smart heating of the floor depending on the outside temperature. The condensing boilers are used for this purpose, thus up to 25% of energy is saved

key.m
Funds Transfer System
The funds transfer system allows making the payments simpler and opening up additional marketing opportunities for the regular customers

SAMWASH Company presented Ukraine with a decent presentation at an international exhibition in the city of Varshava
On May 9 - 11, 2018 grand international exhibition in the field of motor transport took place in Warsaw, Poland. This exhibition is one of the three largest exhibitions in Europe for car wash equipment.
A large number of self-service car manufacturers from around the world have been represented exactly at STACJA PALIW 2018, such as
EHRLE
BKF
KARCHER and others.
The only company representing manufacturers from Ukraine was SAMWASH. We are proud to say that the products of the company caused the Europeans to be curious and amazed, because the quality of their work was impressive and at a high level.
It is a pity that none of the Ukrainian manufacturers of self-service car washes we have never met during all the days of staying in Poland, because the experience of neighboring countries is of fundamental importance for the development of self-service car washes.
... continue reading
WRITE US
CONTACTS
Lviv, 79018
street Kulparkovskaya 108
+38 096 727 33 33
+38 032 241 93 41